Taxi Booking Udaipur to Jodhpur
If you want to explore the one of the most cultured city of Rajasthan which is well known as sun city you are at the right place . We provide the best car rental services for Jodhpur sight seeing . Jodhpur sightseeing tour is very useful for tourist who wants to visit the sightseeing places located within Jodhpur city . The  tour offers travellers to  visit the ancient havelis  , the fort and palaces and temples located within city .
The Jodhpur sightseeing tour can be start from start from various locations as per the guest requirements such as your hotel in Jodhpur, Jodhpur airport , Jodhpur railway station , Jodhpur bus stand etc . We offer our car rental services for Jodhpur sightseeing is very easy and hassle free , you can just book through a call or fill online form and our experts will get back to you quickly to ensure you get best taxi service for sightseeing in Jodhpur. Below are main tourist attraction that will be covered during car rental sightseeing in Jodhpur.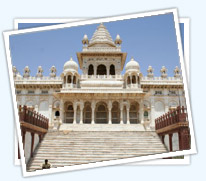 Jaswant Thada
The Jaswant Thada is architectural landmark found in Jodhpur. It is a white marble memorial built in 1899 in memory of Maharaja Jaswant Singh II. The monument, in its entirety, is built out of intricately carved sheets of marble. These stones are extremely thin and polished so that they emit a warm glow when the sun's rays dance across their surface. Within this cenotaph, there are also two more tombs.
---
Mehrangarh Fort
The Mehrangarh Fort lies at the outskirts of Jodhpur city and is located atop a 125 meter high hill. The magnificent Mehrangarh Fort (Jodhpur ka quila) is the most majestic and one of the largest forts in India. It was originally started (c.1459) by Rao Jodha, founder of Jodhpur. However, most of the extant fort dates from the period of Jaswant Singh (1638-78). The walls of the fort are up to 36 meter high and 21 meter wide; they enclose some exquisite structures.
---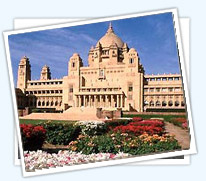 Umaid Bhawan Palace
he Umaid Bhawan Palace is not only one of India's most imposing palaces but also among its most recent. This lavish art deco monument to royal living had an improbable conception: it was built as a public relief and employment project during a long period of drought. Over one million square feet (90,000 meter²) of the finest marble was used in the construction of the palace. A special type of sandstone, called Chittor sandstone, has been used in constructing the palace and this gives it a special effect. For this reason, it is also referred to as Chittor Palace by the locals.
---
We also provide car rental services in Jodhpur on below routes .
Car rental for Jodhpur sightseeing . Car rental from Jodhpur to Agra . Car rental from Jodhpur to Delhi .Car rental from Jodhpur to Jaipur . Car rental from Jodhpur to Ajmer . Car rental from  Jodhpur to Udaipur . Car rental from Jodhpur to Jaisalmer . Car rental from Jodhpur to Ranthambore . Car rental from Jodhpur to Mount Abu . Car rental from Jodhpur to Pushkar . Car rental from Jodhpur to Bikaner. Car rental from Jodhpur to Osian .