Taxi Booking Udaipur to Jaisalmer
If you want to explore the one of the most cultured city of Rajasthan which is well known as Golden city you are at the right place . We provide the best car rental services for Jaisalmer sight seeing . Jaisalmer sightseeing tour is very useful for tourist who wants to visit the sightseeing places located within Jaisalmer city . The  tour offers travellers to  visit the ancient havelis  , the fort and palaces and temples located within city .
The Jaisalmer sightseeing tour can be start from start from various locations as per the guest requirements such as your hotel in Jaisalmer, Jaisalmer railway station , Jaisalmer bus stand etc . We offer our car rental services for Jaisalmer sightseeing is very easy and hassle free , you can just book through a call or fill online form and our experts will get back to you quickly to ensure you get best taxi service for sightseeing in Jaisalmer. Below are main tourist attraction that will be covered during car rental sightseeing in Jaisalmer.
Jaisalmer Fort
Built in 1156 by the Bhati Rajput ruler Jaisal, it is situated on Trikuta Hill and had been the scene of many battles. Its massive sandstone walls are a tawny lion color during the day, turning to a magical honey-gold as the sun sets. The famous Indian film director Satyajit Ray wrote a detective novel and later turned it into a film – Sonar Quila (The Golden Fortress) which was based on this fort. This is a living fort and about a quarter of city's population still lives inside the fort. The main attractions inside the fort are: Raj Mahal (Royal palace), Jain temples and the Laxminath temple.
---
Nathmalji ki Haveli
Built by a Prime Minister of princely state of Jaisalmer. Its facade is a riot of ornamentation: flowers, birds, elephants, soldiers, a bicycle and even a steam engine.
---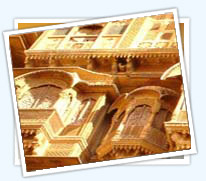 Patwon ki Haveli
Built by Guman Chand Patwa (and later by his five sons), a wealthy merchant and banker who had over three hundred trading center from Afghanistan to China. This ornate five-storey complex took fifty years to complete. This is the largest, the most magnificent, and the most elaborate of Jaisalmer havelis.
---
Salim ji ki Haveli
It was built by the scheming Prime Minister Salim Singh in 1815. It has a beautifully arched roof capped with blue cupolas and carved brackets in the form of peacocks.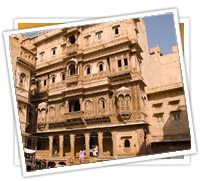 We also provide car rental services in Jaisalmer on below routes .
Car rental for Jaisalmer sightseeing . Car rental from Jaisalmer to Delhi .Car rental from Jaisalmer to Jaipur . Car rental from Jaisalmer to Ajmer . Car rental from Jaisalmer to Udaipur . Car rental from Jaisalmer to Jodhpur . Car rental from Jodhpur to Barmer . Car rental from Jaisalmer to Pushkar . Car rental from Jaisalmer to Bikaner.