Car Rental For Udaipur To Nathdwara
If you are looking for car rental service from Udaipur to Nathdwara then you have landed at the right place. We are the best car rental services provider in Udaipur and travellers can book taxi services from Udaipur to Nathdwara at very economical price with 100% satisfaction guaranteed. Udaipur to Nathdwara is 50 km and it takes approx. 1 hour to travel between Udaipur and Nathdwara.
Located in the Aravalli hills, on the banks of Banas River, Nathdwara is tourist spot located on the state of Rajasthan. This place is much known because of the famous Shrinath ji temple which is one of the names of God Krishna .
We provides you on-time service, great cars and more importantly, professional drivers. Avail our taxi services in Udaipur, and we assure your journey will be safe and memorable. Choose from a variety of cars available from your journey from Udaipur to Nathdwara . Select from our fleet of Indigo, Dzire, Etios, Innova and other luxury vehicles for your trip. With clean car and well trained drivers, we promise you a fun filled trip with great memories.
Places to Visit in Nathdwara
1.Shreenathji Temple
Shrinathjiis a form of Hindu god Krishna , manifest as a seven-year-old child (Balak).The principal shrine of Shrinathji is situated at the temple town of, located 50 kilometres north-east of Udaipur city in Rajasthan. Shrinathji is the central presiding deity of the Vaishnava sect known as the Pushti Marg (The way of grace) or the Vallabh Sampradaya or Shuddhadvaita, established by Vallabhacharya .
---
2.Eklingji Temple
Eklingjii is a Hindu temple complex in Udaipur District of Rajasthan in western India. Eklingji is believed to be the ruling deity of Mewar Princely State and the Ruler Maharana rules as his Dewan.Begun in 971, the temple complex was built by the Guhila dynasty of Mewar, in honor of their presiding deity Eklingji, a form of Lord Shiva. The beautifully sculpted temple complex includes 108 temples within its high walls.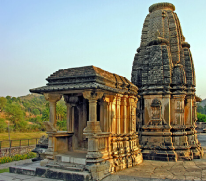 ---
Haldighati
Haldighatiis a mountain pass in the Range of Rajasthan in western India which connects Rajsamandand Pali .The pass is located at a distance of 40 kilometres from Udaipur. The name 'Haldighati' is believed to have originated from the turmeric-coloured yellow soil of the area.