Car Rental For Udaipur To Ahmedabad
If you are looking for car rental service from Udaipur to Ahmedabad then you have landed at the right place. We are the best car rental services provider in Udaipur and travellers can book taxi services from Udaipur to Ahmedabad at very economical price with 100% satisfaction guaranteed. Udaipur to Ahmedabad is 250 km and it takes approx. 4.5 hour to travel between Udaipur and Ahmedabad.
Known as the "Manchester of the East", Ahmedabad has emerged as an important economic and industrial hub. Taking a taxi service in Ahmedabad to travel around this versatile city is a good option so that you can do so at your own pace.
We provides you on-time service, great cars and more importantly, professional drivers. Avail our taxi services in Udaipur, and we assure your journey will be safe and memorable. Choose from a variety of cars available from your journey from Udaipur to Ahmedabad. Select from our fleet of Indigo, Dzire, Etios, Innova and other luxury vehicles for your trip. With clean car and well trained drivers, we promise you a fun filled trip with great memories.
Places to Visit in Ahmedabad
1. Swaminarayan Temple
Located in the Kalupur area of Ahmedabad, Shri Swaminarayan Temple was built on the instructions of Swaminarayan, the founder of this sect of Hinduism. Green and yellow sculptures of various Hindu gods and goddesses, with their bodies fitted in opulent dresses and ornaments cover the structure of this nineteenth-century temple.
---
2. Sabarmati Ashram
Located on the tranquil and serene stretch of Sabarmati River it was also referred to as the 'Satyagraha Ashram' as Gandhi began the famous 'Dandi March' from here. The museum is one of the most interesting sections of the ashram as it has on display some of Gandhi's personal letters and photographs
---
3. Dada Hari Wav
Built by a woman of Sultan Begara's harem in 1499AD, these step-wells were made as a retreat during hot summers. Waiting to be filled with rain water, no matter what the weather is, it is always cooler within the Step-wells.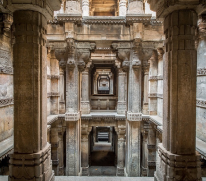 ---
4. Kankaria Lake
One of the biggest lakes in Ahmadabad, this is a total magnet for tourists and locals alike due to its complete entertainment facilities - toy train, kids' city, balloon ride, water park, food stalls. Also famous for its Kankaria Carnival which is full of week-long fun and festivities held in the last week of December, it is an entertainment, fun and cultural hub.
---
5. World Vintage Car Museum
A connoisseur of vintage cars converted his private collection of vintage cars into a museum. The collection comprises of the best of the world - Rolls Royce, Bentley, Jaguar, Cadillac, Austin and many more.
---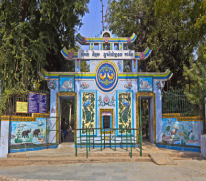 6. Kamala Nehru Zoo
Popularly known as Kankaria Zoo, Kamala Nehru Zoo is located at Kankaria, Ahmedabad. By the majestic banks of the tranquil Kankaria Lake, this zoo has been the abode of different animals, reptiles, birds and mammals belonging to different species.